Bristol hit-and-run driver jailed for death crash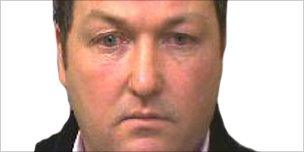 Update 14 February 2019: On appeal Mr Smith's sentence was reduced to 13 months in prison.
A driver who killed a pedestrian while over the drink-drive limit and then fled the scene has been jailed for four years.
Martin Smith, 39, killed 74-year-old Philip Davis instantly when he ploughed into him on Tog Hill, near Bristol, in "pitch black" conditions.
Mr Davis, from Warmley, had been walking along the unlit road on 28 June 2009, Bristol Crown Court heard.
Smith, of Willow Close, Wick, admitted causing death by dangerous driving.
He also admitted a separate charge of dangerous driving at Bristol Crown Court before his trial was due to begin earlier this month.
Mr Davis had been in a nearby pub, the Rose and Crown in Wick, and had told the barmaid that he had been lost and "walking around in circles for hours", the court heard.
She told him the correct way to walk home to Warmley, but he set off in the opposite direction on a road with no street lighting and no footpath.
At about 2300 BST, Smith's Porsche hit him as he walked along the carriageway, causing multiple injuries and killing him instantly.
Smith fled the scene and initially claimed to police that he had hit a deer.
Despite damage to the car, including a shattered windscreen, Smith drove the car on to a friend who fixed the bodywork, also telling him he had hit a deer.
Blood tests taken at the time showed that he would have been just over the legal drink-drive limit when the crash occurred.
Judge David Ticehurst told Smith he was probably driving too fast for the conditions.
Smith, a father of one, was told that the repercussions of the "tragic" incident would affect the victim's family, and his own, for the rest of their lives.
"Like you, he [Mr Davis] was a hard-working and industrious man who looked after his family," said Judge Ticehurst.
"Any sentence I give you will not satisfy his family, of that I have no doubt. You were probably driving faster than you should have been for the conditions.
"The fact that you did not stop also adds to the circumstances that I have to take into account."
Related Internet Links
The BBC is not responsible for the content of external sites.