E. coli cases in Bristol school rise to 16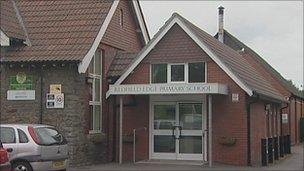 The number of cases in an outbreak of E. coli at a school near Bristol has risen to 16.
Redfield Edge Primary School in South Gloucestershire closed on 20 May because of the illness and will not reopen until after the half-term break.
The Health Protection Agency (HPA) said there are 12 cases among pupils and a further four cases in family members.
Dr David Hunt said: "The latest total of confirmed cases has risen considerably, but it was expected."
The agency said no clear source for the illness had been identified.
The HPA said it was also aware of diarrhoea and vomiting in children from neighbouring schools - St Barnabas Primary School, in Warmley, and Sir Bernard Lovell School in Oldland Common.
But it said there was no evidence of a connection to the Redfield Edge cases of sickness.
The HPA said parents had reported 40 other children with vomiting and diarrhoea but that there had been no new cases reported since 21 May.
Dr Hunt added: "We've known that a number of probable positive samples have been going through laboratory tests this week.
"The new cases relate to children who reported illness last week, so they do not indicate that the outbreak is spreading right now."
The school is due to reopen on Monday but many of the children will need to be screened before they can return.
"These two classes have been identified for screening because they are where the outbreak has been concentrated," said Dr Hunt.
"We know that E coli O157 can spread more easily among the youngest schoolchildren."
Related Internet Links
The BBC is not responsible for the content of external sites.