Bristol Zoo Gardens breeds rare tamarin monkey twins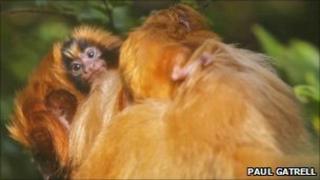 One of the world's most endangered primate species has given birth to twins at Bristol Zoo.
The golden lion tamarins are less than three weeks old and can be seen clinging to their parents' backs.
It is the second time the visitor attraction has successfully bred the species after the parents had their first set of twins last summer.
John Partridge, senior curator of animals, said having two sets in less than 12 months was "brilliant news".
'Hugely important'
"It is not unusual for tamarins to have twins, or maybe even three babies at a time, but each individual baby born is very important as there are so few of these animals in captivity and in the wild," Mr Partridge said.
"Captive breeding of animals such as these, which are facing the very real threat of extinction, is hugely important."
Golden lion tamarins are native to the tropical rainforests of Brazil where about 90% of their original forest habitat has been cut down.
There are about 1,000 left in the wild, mostly in a small patch of rainforests near Rio de Janeiro.
There are approximately 160 golden lion tamarins in captivity in Europe and Bristol Zoo Gardens is involved in a Europe-wide captive breeding programme for this species.
As well as the tamarin babies, the zoo has also seen the arrival of more than a dozen prairie dog pups, a seal pup, and the recent birth of a baby sloth.