Stokes Croft Tesco: Judicial review refusal challenged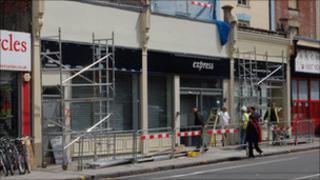 An application to refuse a judicial review of a council's decision to award planning permission to a Tesco store in Bristol is to be challenged.
Protesters claimed Bristol City Council failed to consider a traffic impact assessment about deliveries at the store during the planning process.
In April, a High Court judge said there was no evidence the authority acted "irrationally" in making its decision.
Cardiff Administrative Court is due to hear the appeal later.
The protestors had applied for a judicial review of the council's planning procedures but were turned down. That decision is now being appealed.
The store was at the centre of violent protests in April when it was attacked by protesters after a raid on a nearby squat.
The shop front of the store was also attacked when a second protest a week later turned violent.
Nine people have been charged with offences relating to violent disorder.
A city council spokesman said: "We feel all the correct planning procedures have been followed and the council will be represented at this hearing."