Council votes for Ashton Vale town green compromise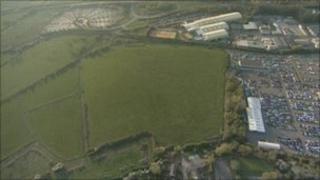 A bid to register land in Bristol as a town green has been partially rejected meaning that a new football stadium can be built.
Bristol City FC want to build a 30,000-seater venue at Ashton Vale.
An independent planner had already recommended the land should be designated a town green but the council suggested it should be shared.
Residents living near the site say they will apply for a judicial review of the committee's decision.
The decision was made following a vote at a Bristol City Council public rights of way committee on Thursday.
The south part of the site will be a town green while the north part will house the stadium which already has planning permission.
Residents have claimed the site - owned by Bristol City FC majority shareholder Steve Lansdown - is used as a recreational area and should be protected with town green status.
For land to be registered as a town or village green, applicants must prove the area has been used for "lawful games or pastimes" for the past 20 years.
The evidence over the site's use for landfill was submitted to the council after the inspector carried out her inquiry in 2010.
The council said it had considered "all appropriate evidence" in coming to its decision.
The committee chair, Peter Abraham, said: "We concluded that the statutory tests had not been met for the northern part of the site, and this should not be registered for a town and village green.
"However we agreed with the officer's recommendation that the southern part should be registered.
"I hope that this decision will draw a line under this long-running and divisive issue, and that all parties will accept the committee's decision."
But some residents who attended the meeting shouted that the decision was "not fair" while another earlier told the committee that the recommendation was a "sham".
A spokesman from legal firm Clark Wilmott, speaking on behalf of the football club, said the town green proposal should have been rejected as Ashton Vale did not meet the required tests.