Stokes Croft Tesco: Right to apply for judicial review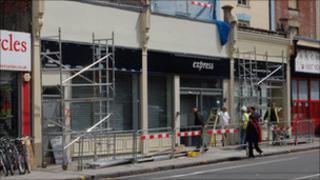 Campaigners against a Tesco store in Bristol have been granted the right to apply for a judicial review into it being granted planning permission.
The No Tesco in Stokes Croft group challenged an application to deny it a judicial review at Cardiff Administrative Court on Wednesday.
A spokesman for the group said: "It has taken huge effort for our views to finally get a fair hearing."
The court said a substantive hearing would be held at a date to be fixed.
The group held a celebratory "tea party" outside the controversial store on Monday after hearing it was able to appeal against the earlier decision denying it permission to apply for the review.
A final decision on whether campaigners will get the judicial review will be made at the substantive hearing.
Traffic impact
A Bristol City Council spokesman said: "We feel that all the correct planning procedures have been followed and we shall be making this case strongly in our detailed submissions ahead of the judicial review hearing."
A spokesman for Tesco said: "This judicial review is about the decision to allow the installation of plant equipment, not about whether our popular local convenience store should be open.
"The judicial review is against Bristol City Council and we are confident we have followed all proper processes. Our team are doing a great job serving hundreds of customers every day."
The campaigners claimed, at the hearing before Justice Beatson, that Bristol City Council had failed to consider a traffic impact assessment about deliveries at the store during the planning process.
In April, a High Court judge said there was no evidence the authority had acted "irrationally" in making its decision.
Store attacked
The group spokesman said: "It is frustrating that we have been concerned about the traffic impact of deliveries since day one but our arguments have been continually rejected until now.
"The current planning system is weighted against local people having a say."
The store was at the centre of violent protests in April when it was attacked by protesters after a raid on a nearby squat.
The shop front of the store was also attacked when a second protest a week later turned violent.
Nine people have been charged with offences relating to violent disorder.