John Cleese speeding court case dropped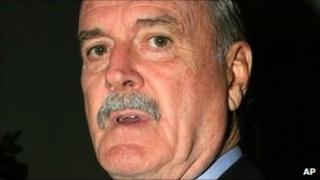 Court proceedings against Fawlty Towers star John Cleese have been dropped.
It was alleged that the 6ft 5in comic's Mini Cooper was photographed exceeding a 30mph limit on the A4 at Saltford, between Bath and Bristol.
Mr Cleese, 71, was also charged with failing to say who was driving the car, on 6 November last year.
But Bath magistrates heard that a fixed penalty notice had been paid and the enforcement unit had asked for the case to be withdrawn.
It was not explained at the court hearing whether Mr Cleese or someone else had accepted the penalty notice, which carries a minimum fine of £60 and three penalty points.
Last month his spokeswoman maintained that Mr Cleese was not the driver but declined to say who was behind the wheel.
At a short hearing, which the Monty Python star did not attend, magistrates dropped the case.
The veteran comic, who lives in Bath with his jeweller girlfriend, Jennifer Wade, is touring the country with his one-man show, the Alimony Tour.