Nurses suspended over Panorama 'abuse' film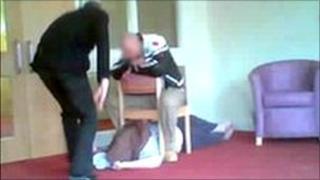 Two nurses from a private hospital near Bristol where patients were filmed being abused have been temporarily suspended from the nursing register.
Sookalingum Appoo and Kelvin Fore cannot practise while allegations of misconduct are investigated.
It follows a BBC's Panorama programme which showed Winterbourne View residents being slapped and taunted.
The Nursing and Midwifery Council said a suspension order lasts 18 months, but can be reviewed periodically.
A statement said: "A panel of the investigating committee placed an interim suspension order against the registration of Mr Sookalingum Appoo and Mr Kelvin Fore pending a full investigation into allegations of serious breaches of the NMC code of conduct.
Unreserved apology
"The NMC is the only authority with the power to stop nurses and midwives, whose conduct or competence has been called in question, from practising."
A serious case review into alleged abuse at the hospital for adults with learning disabilities has been set for July.
Eleven people have been questioned and bailed by police.
The hospital's owner, Castlebeck, has suspended 13 members of staff.
The vulnerable patients filmed by Panorama have been moved to safety.
Earlier this month, the government said a full independent inquiry into what happened at the hospital had not been ruled out.
The Care Quality Commission (CQC) issued an unreserved apology for failing to act on warnings by whistleblower Terry Bryan about abuse at the home.