'Zero carbon' building for Bristol regeneration project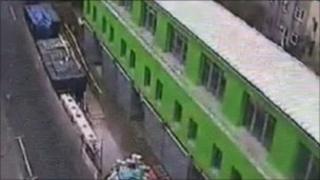 Two brothers say they have designed and built a carbon zero development on the site of a former Bristol car park.
Sean and Paul Warren-Cox completed the green transformation as part of the St Pauls regeneration project.
The nine duplex premises include living and work space.
They were built using sustainable materials and are designed to use recycled rain water and solar power to achieve their environmentally-friendly credentials.
The building has already won a local authority Built in Quality and Sustainability award and was a runner up nationally.
It is believed to be one of the first of its kind with its solar panels generating some 2,000 kWh of electricity per year.
Paul Warren-Cox said he hoped the building would act as a benchmark for sustainable development in the city.