MP Don Foster 'confident' Bath will get Olympic torch visit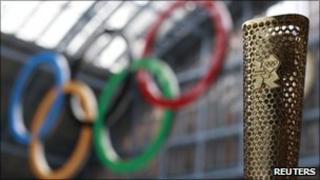 Bath's MP has said he is "confident" that the Olympic torch will visit Bath, despite the city being missed off the initial route.
Liberal Democrat Don Foster, who lives in the city, is a member of the Olympic Board responsible for planning the 2012 Olympic Games.
Currently Bath will not be an overnight stop for the torch on its 8,000-mile tour ahead of the London Games.
The Olympic torch relay will take place from 19 May to 27 July next year.
London 2012 organisers have said that the Olympic flame will travel to within an hour of 95% of people in the UK, Isle of Man, Guernsey and Jersey.
Locations already announced include Land's End, Cardiff, Liverpool, Glasgow and Manchester.
Second announcement
In addition to the first 74 places confirmed on the route, many other locations will be named in a second route announcement later this year.
"The Olympic torch relay will be a fantastic event," said Mr Foster.
He has asked residents to nominate "inspirational individuals" to be London 2012 Olympic torchbearers.
"I know there are many Bath residents whose personal stories will inspire millions of people watching the Olympic torch relay," he added.
"We all know someone who gives their all for the community and this is a great opportunity to give them their moment to shine."
Each leg of the relay is 300 metres and anyone can nominate someone as a torch bearer .
The deadline for making nominations is 2359 BST on 29 June.