M4 lorry fire forces motorway closure just outside Bath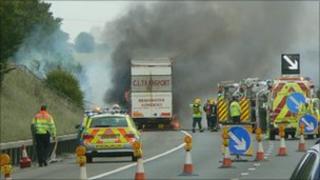 A lorry fire on the M4 near Bath forced the motorway to be closed for about six hours.
One lane has been reopened but four-mile (6km) traffic queues remain on the eastbound carriageway between junctions 19 and 18.
The fire in the lorry, which was carrying bales of cardboard, was reported at about 1500 BST. Nobody was injured.
It is hoped the other two eastbound lanes will be reopened overnight.
A spokesman for the Highways Agency said: "We have done our best to divert traffic around the incident but such complicated vehicle fires will inevitably cause long tailbacks at this time of the day."
Both carriageways were initially closed until just before 1530 BST when the westbound side was reopened.