Complaints over untidy Tesco recycling bins in Bristol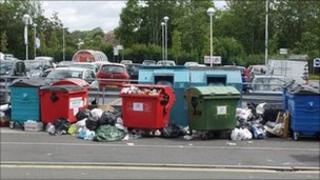 Complaints have been sent to Bristol City Council about recycling banks at two Tesco stores being untidy.
The authority formerly ran recycling points at Eastville and Brislington stores, but the supermarket has recently taken them over.
Councillor Gary Hopkins, who is in charge of waste, said one person had emailed saying he could not get to the recycling banks because of rubbish.
A Tesco spokeswoman blamed the problem on flytipping.
Mr Hopkins said the council was regularly emptying the bins before Tesco took over.
"Our staff before used to regularly visit them and clean them up about three times and week and that isn't happening any more," he said.
But Treeva Fenwick, from the supermarket firm, said they would now increase the amount of times the bins were emptied.
She added that Tesco took over the service when "a number of councillors approached us and said they could no longer afford the service".