Oldbury nuclear power station Reactor 1 shut down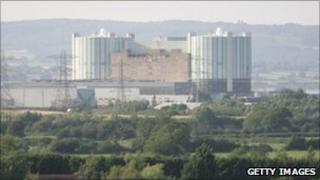 The remaining nuclear reactor at Oldbury Power Station has been shut down after problems with a refuelling machine.
Reactor 1 at the South Gloucestershire plant is expected to stay offline for about three weeks.
The decision was made after a routine inspection by engineers. It means both reactors are offline.
Reactor 2, which had been operating for 43 years, was shut down permanently on 30 June.
A spokeswoman from the power station said the plant was safe.
"Residents nearby will have seen steam released from the Reactor 1 boilers," she added.
"This is a normal part of shutdown."
The plant's operator Magnox decided to shut Reactor 2 because it has reached the end of its operational life, and because of limited fuel stocks.
Reactor 1, which started generating electricity in 1967, will continue to operate until the end of 2012.