Wiltshire's 2nd Royal Tank Regiment marches through Bristol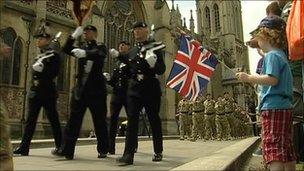 A thanksgiving service has been held in Bristol for members of the Wiltshire-based 2nd Royal Tank Regiment who have recently returned from Afghanistan.
The 300 "tankies" were inspected outside the Council House before parading around the city centre.
Maj James Cameron said it was wonderful to do the job but very good to be back home with family and friends.
He added that it was good to meet the public as the soldiers do not always realise how appreciative they are.
Soldiers from the regiment have recently returned from a six-month tour of duty in Helmand Province as part of Operations Telic and Herrick.
During their tour the troops provided heavily-armoured support for the British Infantry.
The soldiers were involved in fighting with insurgents, patrolling towns and villages, repairing schools and protecting the road building programme.
Related Internet Links
The BBC is not responsible for the content of external sites.