Dimmable street lights trialled at Hicks Gate roundabout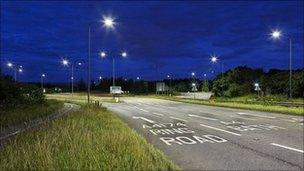 New LED street lights which alter their brightness according to the time of night are being trialled near Bristol.
Bath and North East Somerset Council have installed 71 of the energy-saving lights around Hicks Gate roundabout.
A spokesman said it believed it was one of the first local authorities testing the technology on a major road in England.
He said as the lamps had a lifespan of 60,000 hours they would also save the council money on maintenance.
"The end result is that we save money on behalf of local taxpayers, cuts our carbon footprint, and makes the route even safer because the lights illuminate the carriage much more clearly for drivers and cyclists," the council spokesman said.
"Depending on the outcome of this trial, there is the possibility of extending this lighting and associated benefits to other areas of the district," he added.
The council estimates the lamps used on the trial will save nearly £4,500 per year in electricity costs and reduce carbon emissions by 25 tonnes.
Related Internet Links
The BBC is not responsible for the content of external sites.