Bristol International Balloon Fiesta: Inquiry after house is hit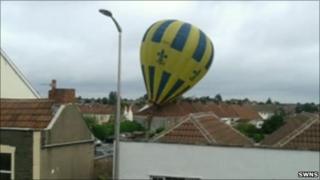 An investigation is under way after a hot air balloon hit a house in Kingswood during the Bristol International Balloon Fiesta.
Festival organisers are investigating and the Air Accidents Investigation Branch is considering whether to launch a full investigation.
Fiesta chairman Muir Moffat said: "We are very disciplined about how we fly and we brief the pilots."
More than 500,000 people visited the fiesta over the weekend.
'Very disciplined'
Mr Moffat said: "We've got a very good record of flying all these balloons over the city and we're investigating and the authorities are investigating and it's unfortunate."
He added he was "very pleased" with the event overall.
"We got good weather to get lots of flying in and the people of Bristol came out and supported us in huge numbers," he said.
All car parking was sold out at Ashton Court during the festival, which was the busiest in its 33 years.
There were some problems with transport, with special buses being diverted as they were unable to get through Clifton because of badly parked cars.
On the final day of the fiesta, 96 balloons took to the sky in the morning but the evening ascent was called off because of windy conditions. The Red Arrows also performed.
The theme for this year's fiesta was Made in Bristol as the event celebrated the 40th anniversary of local balloon manufacturer Cameron Balloons.