TV's Casualty in Cardiff move after 25 years in Bristol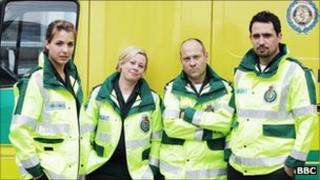 It has been dealing with fictional emergency trauma for 25 years but now TV's Casualty is facing its own big drama.
The cameras roll for the final time in Bristol later, as the programme - inextricably linked with the city - is moving to Cardiff Bay in September.
Whilst being set in the fictional town of Holby, the BBC programme's opening titles and location settings have shown many views across Bristol including the Clifton Suspension Bridge and the Harbourside.
Running since 1986, it is credited with bringing millions of pounds into the local economy and providing hundreds of jobs for actors and technicians.
Mehjabeen Price, of South West Screen (SWS), said the series brought lots of prosperity to the city.
"Casualty has made Bristol its home for 25 years, and has been a valuable asset to our region's industry," she said.
This final chapter for Bristol comes after rumours of a possible move to Cardiff started to circulate in 2008.
In July that year, an Early Day Motion was tabled in the Commons.
It also noted that drama series Doctors could be forced to relocate to Salford from its Birmingham base.
While the motion welcomed the increase in jobs for Cardiff and Salford it said this should not be at the expense of other regions.
Then in December some of the cast and crew, headed by Derek Thompson - who has played Charlie Fairhead in the programme since it began - campaigned against the move.
In 2009 the BBC formally announced it would move the programme to Cardiff as part of plans to increase network TV production from the UK nations and regions.
Ms Price said that since the move was confirmed, SWS was keen to look to the future.
"We want to make it clear that Bristol remains an excellent home for good drama, with strong infrastructure and expert local crew base," she said.
"We send our thanks to Casualty for the benefits it has brought to Bristol over its lifetime."
Casualty now joins a growing stable of network drama to be produced in new studios in Cardiff Bay, including Doctor Who and Torchwood.
However, when the series started hospital interiors were filmed at Television Centre in London with the location-action shot in Bristol.
After the first series all filming was moved to Bristol, with exterior hospital sequences shot at the City of Bristol College in Ashley Down before moving to a trading estate in Lawrence Hill in 2002.
So will the viewers miss the familiar backdrops?
Cheryl Griffin, editor of Holby TV - a fans' website - said Bristol had played a positive role in making Casualty what it is for more than two decades.
"I still remember Charlie driving over the suspension bridge in the early series - these Bristol landmarks are part of the nostalgia," she said.
"It will be a loss to both Casualty and Bristol."
She said the move was being approached with "some trepidation" but fans have been promised good new storylines and characters.
The programme has also employed a large number of supporting actors (SA) and actresses.
Chris Ryde, from the actors' union Equity, said the move left the Bristol area without any significant long-term work for them.
"We were told [by the BBC] that other major series would come to the West Country," he said. "We had Larkrise to Candleford - that lasted 12 months.
"And then there's [Channel 4's] Skins - that's about the sum total of the rest."
Mr Ryde said regular SAs had been given assurances they would be used as much in Cardiff as they had been in Bristol.
"They'll possibly be used even more as the programme's going to be a more studio, rather than location, format," he added.