Honeymoon murder accused: Shrien Dewani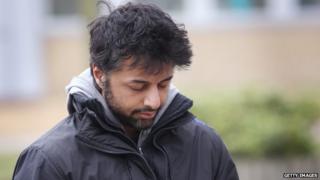 Shrien Dewani was a respected Bristol businessman who had just married a beautiful bride when his world fell apart.
The wealthy care home owner seemed to have it all: a supportive family, a top education and a successful business giving him the means to provide for his loved ones.
But just two weeks after a fairytale Hindu wedding in Mumbai to Anni Hindocha, she was shot dead in an apparent car-jacking on the outskirts of Cape Town.
The date was 13 November 2010.
The couple's dream honeymoon had turned into a tragedy and three years of legal battles were about to begin.
Mr Dewani had been released from the taxi unharmed but his wife's body was discovered the next day with a single shot wound to the neck.
Soon after, he was accused of ordering the death - which he has continuously denied.
The emotional toll of Anni's shooting and constant allegations quickly started to show and, following his arrest on suspicion of his wife's murder, Mr Dewani began to suffer from acute stress disorder.
He would go on to spend more than three years on mental health wards while his lawyers argued that he should not be forced from the UK to face trial until he had recovered.
In 2011 a court heard he was a suicide risk.
Two weeks later he checked into the Priory Hospital in Bristol, only to leave the following month after an alleged bout of aggressive and disruptive behaviour.
He was then detained at the medium security Fromeside Clinic, also in Bristol, and in 2012 it was reported there had been an improvement in his health.
But his legal fight against extradition continued.
In March, his lawyer told a panel of judges fresh evidence suggests "his underlying medical condition may be chronic - incapable of being treated".
Despite the claim, judges at the High Court rejected Mr Dewani's appeal and on 7 April he was extradited to South Africa.
'Intelligent boy'
Mr Dewani was privately educated at Bristol Grammar School, which boasts a 500-year history and costs more than £11,000 per year.
He was described by a family friend as a "very intelligent boy" who was "generous and down to earth".
He read economics at the University of Manchester and qualified as an accountant.
Following university he began work at accountancy and consultancy giant Deloitte in London when he met his future wife through mutual friends.
They dated for 18 months, during which he returned to Bristol to run the family firm, PSP Healthcare.
He and Anni got engaged and then married in an "extravagant" ceremony in India before 200 guests.
There was no pre-nuptial agreement, no dowry and no pressure from the family to marry, Mr Dewani's family said.
The couple arranged their own wedding, his supporters added, stressing he wanted a family with his new wife and to plan a future with her.
Mr Dewani continues to deny any involvement in plotting the murder of his wife.
He will now reside at the high-care wing of Valkenberg hospital, a psychiatric facility, where he will be assessed by South African doctors to decide if he is fit to stand trial.
If he is not brought to trial within 18 months he will be returned to the UK.