Shrien Dewani 'could serve sentence in Bristol Prison'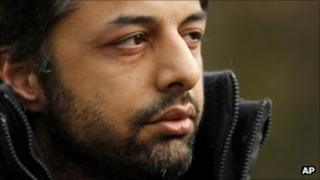 Shrien Dewani could serve his sentence in Bristol Prison if he is found guilty of plotting to murder his wife on their honeymoon, a South African legal expert has said.
Paul Hoffman, a former acting High Court judge in South Africa, said that option was very unusual, but could be arranged through an inter-governmental deal.
A UK Ministry of Justice spokesman said the department had prisoner transfer agreements with various countries but not with South Africa. However, that could change in the future.
"We hope to get more agreements with other countries and one of them may be South Africa," he said.
Anni Dewani, 28, from Sweden, was shot when a taxi in which the couple were travelling was hijacked in the Gugulethu township in Cape Town in November 2010.
South African prosecutors say they have evidence that Mr Dewani paid a taxi driver to arrange the murder and want him extradited to stand trial.
That extradition attempt was temporarily halted by the High Court on Friday on mental health grounds.
Mr Dewani, 32, from Bristol, denies any involvement in the killing.
Mr Hoffman, a director of the Institute for Accountability in Southern Africa, said that if extradited, it would be likely that Mr Dewani would be put on trial along with his co-accused, Mziwamadoda Qwabe, 25, and Xolile Mngeni, 23, at the High Court in Cape Town.
He faces charges of murder, conspiracy to commit murder, robbery with aggravating circumstances and obstructing the administration of justice.
'Good looking'
It is also possible that Mr Dewani could be tried in the UK, Mr Hoffman added.
Care home owner Mr Dewani is said to be suffering from severe post-traumatic stress disorder and depression, and has fought extradition, arguing he is too unwell to face trial.
In August, a judge ruled that Mr Dewani could be extradited to stand trial but that decision was reversed at the High Court.
It means the process will begin again after it was ruled the case should be remitted back to Westminster Magistrates' Court for a further hearing.
In May 2011, District Judge Howard Riddle had said he was satisfied Mr Dewani would receive the appropriate mental health care in South Africa.
Judge Riddle said he believed Mr Dewani would be held in a prison with good facilities and that he would be kept in a single cell.
But Mr Hoffman said the conditions in South African prisons were "atrocious".
"There is gross overcrowding, corruption, routine rape of inmates, intimidation, HIV/AIDS, TB. Gangs rule prisons.
"I'm sure he [Mr Dewani] would be a kid gloves prisoner because of his high profile and his nationality but to spend a long sentence in a prison hospital is a pretty ghastly prospect."
'Baited breath'
Mr Hoffman said the option of spending time in a private hospital in South Africa under guard could also be available to Mr Dewani.
Taxi driver Zola Tongo, 31, from Bothasig, Cape Town, has been jailed for 18 years for murder, kidnapping, robbery with aggravating circumstances and perverting the course of justice.
Mr Hoffman said the state would be likely to lead the evidence with Mr Dewani's alleged motive for the killing, and it would be likely that Mr Tongo would be a witness.
Mr Hoffman said: "I'm waiting with baited breath to see what motive they will suggest.
"If there is no credible evidence of a motive, I think it would be difficult to prove guilt beyond a reasonable doubt."
Mr Hoffman said that if convicted, Mr Dewani could be given a 15 to 25-year sentence.
"If I had been the judge, I would have postponed sentencing until after the trial of the people pleading not guilty," he said.
"It's going to turn into a credibility battle between those who say Mr Dewani was involved and those who say he wasn't.
"Cell phone records, SMS's, hotel and restaurant bills, all sorts of paper trails can show who was where when and what was going on when.
"If those point towards a conspiracy to which he was a party, he'll go down.
"People go down for a long time - there is no death penalty in South Africa so that is something he doesn't have to worry about."