Millennium Square exercise to test 999 crews in Bristol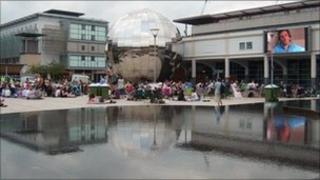 Hundreds of emergency service workers and council staff are due to take part in an exercise to test plans to respond to a major incident in Bristol.
The exercise takes place on Sunday in Millennium Square, and police are warning of potential delays to traffic in the city centre.
An Avon and Somerset Police spokesman said people in the area may see a large number of "injured" people.
"These are not real casualties so there is no need for alarm," he said.
"Exercises like this enable the emergency services to develop their skills in a realistic way so that they can work together effectively to respond to a major incident."
Parts of Anchor Road and Millennium Square will be closed between 08:00 and 18:00 on 2 October.