Finley Jones refused NHS operation to help him walk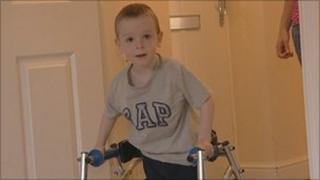 A four-year-old boy from South Gloucestershire has been told the NHS will not pay for an operation that could help him walk.
Finley Jones, from Warmley, who has cerebral palsy, was recommended for the neurosurgical procedure by his consultant.
But NHS South Gloucestershire said it would not fund the £24,000 operation.
Finley's parents are hoping a specialist NHS panel will recommend the procedure is used.
Finley's consultant said the four-year-old needed a selective dorsal rhizotomy - a procedure which involves severing the nerves in the back which cause spasms and pain in the leg muscles.
'Cost effective'
But a request for the operation, which is not routinely funded, was turned down and an application for "exceptional" funding was also rejected because there were other patients who also wanted the procedure.
Mr Jones said he was dismayed by the trust's decision and believes the procedure would be cost effective.
"He [Finley] has Botox treatment twice a year which costs £1,200 and we've been told this could increase to four times a year.
"The evidence we've seen with this procedure is that once they have this all of that is no longer necessary."
The family are now waiting to see if their case will be put to the South West Specialist Commissioning Board, which could recommend and pay for the procedure if it is thought it would benefit a number of patients in the region.
In a statement NHS South Gloucestershire said it "recognised the benefit" of the procedure and was working to "set up a regional service for all children who need it".
It said it hoped such a service would be funded through a regional budget to offer the treatment to all suitable children.