Vincent Tabak trial: Jo Yeates 'suffered 43 injuries'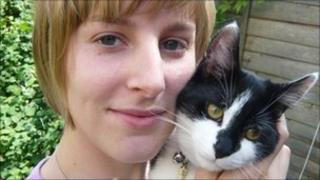 Jo Yeates suffered 43 separate injuries during a violent struggle when she was strangled by Vincent Tabak, a court has heard.
Strangling Miss Yeates took some time and "sufficient force was used" to kill her, prosecutor Nigel Lickley QC told Bristol Crown Court.
Mr Lickley said Miss Yeates had head, neck, trunk and arm injuries.
Tabak, a 33-year-old Dutch engineer, admits Miss Yeates's manslaughter but denies her murder on 17 December.
The jury heard there was also bruising on 25-year-old Miss Yeates.
Tabak was said to have used his height and build to overpower 5ft 4in Miss Yeates. The court heard he was about 1ft taller than her.
'Struggling to breathe'
"She was alive when it happened," said Mr Lickley.
"Death was not instantaneous.
"He might have let go but he did not. He knew that Miss Yeates was in pain but struggling to breathe."
He added Miss Yeates's death would have been "uncomfortable and painful".
Miss Yeates's body was found on a snowy verge with her jeans still fastened and her pink top partially pulled up over her head, the jury was told.
Blood stains
Swabs were later taken from her body and DNA matches to Tabak were found, the court heard.
Mr Lickley said blood stains were found on a wall close to where Miss Yeates's body was found, suggesting Tabak had tried to lift her over the wall into a neighbouring quarry.
Having failed to do that, Tabak attempted to cover her body with leaves and packed leaves around her body, it was alleged.
Toxicology tests on Miss Yeates's body were consistent with her having drunk between one-and-a-half and two-and-a-half pints of cider.
Scientists also confirmed she had not eaten the Tesco Finest pizza she bought on the night of her death.
Miss Yeates's last meal was at lunchtime on 17 December, which she had shared with her boyfriend, Greg Reardon.
Following his arrest on 20 January, Tabak gave several prepared statements to police.
In one, the court heard, he said: "I did not know Joanna Yeates. I have never spoken to her or Greg Reardon.
"Until her picture was shown prominently in the press, I would not have recognised her."
He went on to explain what he was doing on the night she disappeared.
He had left his flat to see if he could take pictures of the snow, the court heard, but did not do so because the snow "was dirty".
During the opening day of the trial on Monday, the court was told he then went shopping at Asda in the Bedminster area of Bristol, with Miss Yeates's body in the boot of his car.
Salvation Army
Fibres found on Miss Yeates' body indicated she had come into contact with Tabak's black coat and his silver Renault Megane.
"There was also very strong support for the proposition that Miss Yeates was in direct contact with the boot of the Megane," Mr Lickley said.
He said Miss Yeates's blood had also been found in the boot of the car.
Tabak first confessed to killing her during a conversation with a Salvation Army chaplain, while he was in custody.
Mr Lickley said: "Vincent Tabak went on to say that he was going to plead guilty."
However, in one of a string of interviews with officers he said: "I believe the DNA evidence is insecure and cannot be relied on."
Mr Lickley, bringing the prosecution's opening to a close, told jurors it was for them to decide on Tabak's "state of mind".
"Our case is that he is guilty of murder," the barrister added.
The jurors were told that on Wednesday they would be taken both to Miss Yeates's flat and the spot where her body was found, as the trial continues.