Vincent Tabak trial: Images of Jo Yeates's body shown to jury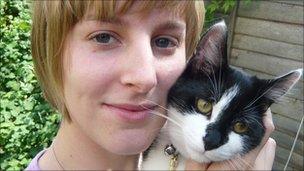 Pictures of Jo Yeates's body have been shown to jurors in the trial of her alleged murderer.
Bristol Crown Court was told forensic officers used a broom handle to help recover her body from the snow-covered lane near the city where it was found.
Dutch engineer Vincent Tabak, 33, Miss Yeates's neighbour, admits manslaughter but denies murdering the 25-year-old.
Her body was found by dog walkers on Longwood Lane in Failand on Christmas Day - eight days after she disappeared.
Jurors heard Daniel Birch and his wife Rebecca had opened their presents early and were walking their dog on Longwood Lane near Bristol soon before 09:00 GMT on 25 December 2010.
In a police statement, Mr Birch said he had seen a lump in the snow and what appeared to be a denim jeans pocket on the left-hand verge.
After walking past, he and his wife turned back after Mr Birch realised it was a body.
Mr Justice Field had warned the jury to prepare for the images taken after Miss Yeates's body was found.
When pathologist Russell Delaney took the stand, a Dutch interpreter was brought into the dock to ensure Tabak understood medical terms.
The jury was shown pictures of landscape architect Miss Yeates's body "in a foetal-type position".
Prosecutor Nigel Lickley QC earlier told the court that Miss Yeates, originally from Ampfield in Hampshire, suffered 43 separate injuries during a violent struggle when she was strangled by Tabak.
Dr Delaney told the jury that red bruise marks were shown on her neck and chin and there was blood underneath her nose.
He said: "Bruising only occurs when the heart is beating - so the injuries occurred during life."
Reading out the conclusion of his findings, he said: "Miss Joanna Yeates died as a result of manual compression of the neck.
"It is not possible to quantify the amount of force applied or the duration of the compression that resulted in unconsciousness and death.
"The physical signs of neck compression indicate she did not die instantaneously.
"The forceful application of pressure to her neck would have been uncomfortable.
"She would have experienced difficulty in breathing and I would have expected her at some point to be in pain.
"Nothing was identified at the post-mortem examination to indicate she was incapacitated by another means and therefore I would have expected her to struggle."
Related Internet Links
The BBC is not responsible for the content of external sites.