Bristol barber shaved 'fool' in vulnerable man's hair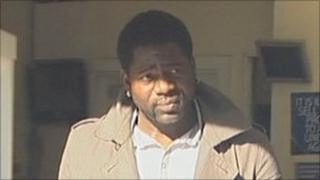 A barber who shaved the word "fool" on the back of the head of a man with learning difficulties has been found guilty of common assault.
Michael Campbell, 35, had been working at Jam Cuts in Stapleton Road, Bristol when 49-year-old Michael Ricketts walked into the salon on 11 February.
The court heard he asked for a pattern to be shaved but the word "fool" with a smiley face was cut instead.
Campbell had denied a charge of assault and one of failure to answer bail.
The case was adjourned for pre-sentencing reports.
Mr Ricketts who has communication difficulties was described to the court as a "vulnerable adult" who "mumbled his words" and was "difficult to understand".
Giving evidence, Campbell, from Willow House, Hartcliffe, Bristol, said Mr Ricketts had asked for a pattern and he had shaved the word "cool" but it had been misinterpreted.
He told the bench he had not noticed Mr Ricketts had learning difficulties.
No photographs were taken of the haircut and the court heard live testimony.
'Really shocked'
The court heard from three witnesses who said they were confident of the wording on the back of Mr Ricketts' head.
Jackie Lester, a senior care worker for Bristol City Council, spotted the word when Mr Ricketts visited a drop-in centre on 14 February.
She said: "At the back Michael had the word 'fool' written on the back of his head, with a little line meant to be a smiley face. I was really shocked."
Ruth Tily, defending, suggested she may have misinterpreted the word, to which Ms Lester said: "You may suggest what you like, but I am very confident about what I saw on his head.
"I just couldn't believe it. I was stunned. I asked Michael where he got the haircut from and he said Stapleton Road," Ms Lester said.
"I realised it had been reported to the police, if not I would have reported it to the police as he is a vulnerable adult."