Vincent Tabak trial: Jo Yeates killing 'not sexually motivated'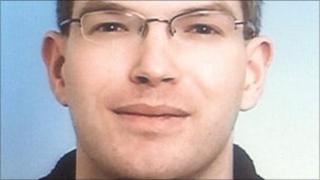 The man accused of murdering Bristol landscape architect Jo Yeates has denied her killing was sexually motivated.
Vincent Tabak told Bristol Crown Court that Miss Yeates was "cheery and happy" before he strangled her.
The 33-year-old Dutch engineer has admitted Miss Yeates's manslaughter on 17 December last year but denies murder.
Tabak told the court he was attracted to the 25-year-old.
Tabak has previously described how Miss Yeates, originally from Ampfield in Hampshire, screamed when he went to kiss her.
'Flirty comment'
He said he panicked and covered her mouth and held her neck until she "went limp".
Under cross-examination, prosecutor Nigel Lickley QC questioned Tabak about the "flirty" comment he said Miss Yeates had made on the night she died.
Tabak said: "She was cheery, happy. She made the comment."
The engineer told the court he believed Miss Yeates was attracted to him.
He said: "We were standing close to each other, she invited me in for a drink. She made a flirty comment. I thought she was flirtatious."
Mr Lickley asked Tabak whether his motivation in killing Miss Yeates was sexual.
"What's the difficulty in accepting it is sexual?" he asked.
"Is it because there are other sexual elements to what happened?"
Tabak replied: "There were no other sexual elements."
Mr Lickley asked: "Is the holding of her throat sexual in your mind?
"Did you derive sexual gratification from holding her throat?"
Tabak replied: "Definitely not."
'State of panic'
"Were you sexually aroused when you were holding her throat with your hand over her mouth?" Mr Lickley asked.
Again, Tabak replied: "Definitely not."
Mr Lickley asked: "Were you sexually aroused when you went to kiss her on the mouth?"
Tabak replied: "No... I felt attracted to her, yes."
Tabak said he could not remember how his arms were scarred.
"There was no fight," he said. "There was no struggle."
Mr Lickley said the prosecution's case was that Miss Yeates was only home for a few minutes before Tabak was at her door.
He said: "There was very little time for any chitchat, if at all. And you knew full well what you were doing when you strangled her to death.
"You squeezed her neck and you carried on until she died. You were the one being aggressive and she was resisting you.
"You did that when you knew that no-one would come and save her. You knew her boyfriend was away.
"She showed no interest in you, Vincent Tabak."
Tabak replied: "By inviting me in, she is showing interest."
Mr Lickley said: "That's not showing interest in you, Vincent Tabak - that's being neighbourly."
Forensic pathologist Dr Nat Cary told the court there was no evidence Miss Yeates had been sexually assaulted.
He said he thought the most likely explanation for Miss Yeates's top riding up and exposing her bra would be during the attempts by Tabak to dump her body over a wall in Longwood Lane, Failand, near Bristol.
Miss Yeates's father David attended court on Friday with his daughter's boyfriend Greg Reardon. Mr Yeates's wife and son were not in court.
Members of Tabak's family also watched as the defendant explained his actions on the night of 17 December.
Tabak said he was "in a state of panic, turmoil" after dumping Miss Yeates's body on a verge in Longwood Lane.
He admitted he had misled police as a search was launched.
Tabak admitted to wrongly incriminating his landlord Christopher Jefferies by saying his car had moved on the night Miss Yeates went missing.
"I am sorry I dragged him into this," he said.
The hearing was adjourned until Monday.