Bristol's Severn Beach rail line 'less reliable'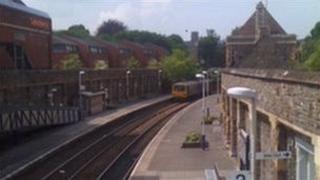 Campaigners are to present a 300-name petition to Bristol City Council after a rail subsidy was cut.
The Severn Beach line was given £400,000 per year between 2008 and 2011, but funding has now been halved.
Members of the Friends of Bristol Suburban Railway and other groups including the Green Party claim services have now become less reliable.
Lib Dem councillor Tim Kent said he had held a meeting with the operator who said problems would not recur.
Mr Kent, who is in charge of transport at the city council, said: "The problems in service occurred twice because of Network Rail delays in track maintenance and twice by the breakdown of two different trains as they were leaving the depot to service the route.
"None of the delays have been caused because of funding issues.".
He said First, which operates trains on the line, had given him assurances over the recent issues and the petition risked "talking down" a valuable rail service.
But Geoff Collard, from the Bristol North Green Party, said he was "concerned" about the problems on the line.
"This service has been very good and reliable since public pressure drew attention to the unreliability of the service two or three years ago."
Green Councillor Gus Hoyt added: "I have used this line a great deal. It is a shame it is not reaching its potential."