Vincent Tabak trial: Jury warned over sympathy during deliberation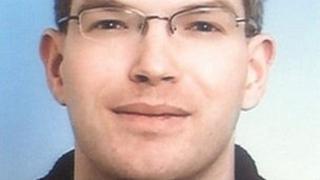 Jurors were told not to let emotion cloud their judgement as they retired to consider a verdict on whether Vincent Tabak murdered Jo Yeates.
Tabak, 33, has admitted the manslaughter of Miss Yeates in her Bristol flat in 2010 but denies murder.
Miss Yeates, 25, was strangled before her body was left on a roadside verge, where she was found on Christmas Day.
Mr Justice Field told the Bristol Crown Court jury: "Do not allow emotion to enter into your deliberation."
The jury, who were sent out at 12:30 BST on Wednesday, will continue their deliberations on Thursday morning.
The prosecution told the court that Miss Yeates, originally from Ampfield in Hampshire, was strangled, during which she sustained 43 separate injuries.
In closing speeches on Tuesday, Nigel Lickley QC told the court Tabak was "dishonest, deceitful and a liar".
However, his defence team said the defendant misread a "flirty" comment and killed her accidentally while attempting to stop her screaming when he tried to kiss her.
William Clegg QC, defending, said the evidence did not support Mr Lickley's claims Tabak had sex on his mind when he went into her flat.
Summing up on Wednesday, Mr Justice Field told jurors: "You must decide if he intended to cause her serious harm.
"What was the defendant's intention at the time he used unlawful violence against Joanna Yeates.
"In defining what the intention was, you must examine the attack - the duration, the injuries, what was done and said.
"If after examining the attack you're sure he intended to kill her or cause really serious harm, you must find him guilty.
"if you are not sure he intended to kill or cause her really serious harm, you must find him not guilty."
Mr Justice Field recounted the evidence taking the jury through Tabak's oral evidence and his account of his movements on the night of 17 December.
He also spoke of the evidence given by pathologists Dr Russell Delaney and Dr Cary.
The judge said that of the 43 injuries on Miss Yeates's body, some could have been caused from the same impact.
He also said that the jury should put to one side the injuries classed as abrasions as they could have been caused after death.
Instead, they should focus on the bruises to Miss Yeates's body as they could only have been caused in life.
Time of death
The judge said jurors should carefully weigh up the evidence of the two pathologists as to the time it took for Miss Yeates to die and the degree of force used.
Mr Justice Field said another factor for the jury to consider was at what time Tabak strangled Miss Yeates.
In evidence, Mr and Mrs Lehman walking to a party on Canynge Road - where Miss Yeates lived - said they heard a scream, a pause, and another scream coming from the direction of her home.
Other residents living nearby also heard it but a neighbour of Miss Yeates's did not, the judge told the jurors.
Tabak maintained in evidence that he did not kill Miss Yeates until after 21:25 GMT.
"It is a matter for you to consider whether you are satisfied that these two screams that the Lehmans heard were Joanna's screams," the judge said.
"If you are, this attack occurred well before the time that Vincent Tabak gave you and it would have been over before he sent the first text at 9.25pm to [Tabak's girlfriend] Tanja Morson in which he said he was bored."