Bristol church organist's 60 years of service marked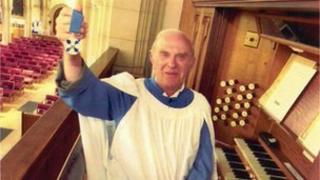 An organist who has been providing music at a Bristol church for 60 years has been honoured at a special service.
Reg Parker, 82, has been playing the organ and directing the choir at St Peter's church in Henleaze since 1951.
He was also head of music at Cotham Grammar School for many years.
One of Mr Parker's former pupils, the Right Reverend John Saxbee, has recently retired as Bishop of Lincoln and will give a sermon at the service.
Mr Parker said the bishop's attendance would be a "highlight" and that many people would be coming "from far and wide."
He added: "I've also seen six vicars come and go. Two have died but the four remaining ones will be coming."
On how he became organist at the church, Mr Parker said: "It's always been part of my life. I started as a choirboy at seven, then at 10 started playing around on the organ and it went from there.
Probation period
"Later on I was appointed at St Peter's and at first they thought I was too young and put me on a probation period. Well to this day I never got a contract so I suppose I'm still on probation."
Canon Mark Pilgrim of St Peter's conducted Sunday's service, which was followed by a reception and presentation in St Peter's Hall afterwards.
Speaking before the service Mr Pilgrim said: "We look forward to the congregation being full of music lovers and singers - and to the volume of the congregation being as greater or greater than that of the choir."
Mr Parker said he is "excited" to be honoured for his 60 years of service but is in no hurry to give up.
"I'm still playing every Sunday and and most certainly have no plans to retire. I still enjoy it," he said.