Second Bristol Costa Coffee opens without permission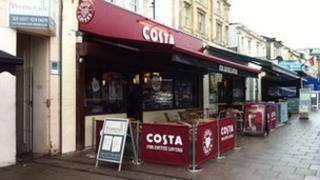 A Costa Coffee branch in Bristol which sparked protests after it was announced it would open without planning permission has begun trading.
The Gloucester Road franchise applied to become a cafe but the scheme was turned down by Bristol City Council.
Richard Leonard, who organised a 3,000-name petition against the cafe, said he hoped people would not use it.
Costa Coffee has appealed against the planning decision while the council said it would investigate.
Franchise holder Stuart Montgomery said he did not want to comment.
Mr Montgomery also owns a Costa branch on Whiteladies Road which opened without a permit earlier in November.
Costa said: "We believe most people would rather see the disused building in the hands of a local businessman and turned into a thriving coffee shop, than remain empty."
Costa added it felt "let down" by the council whose planners had recommended the cafe be given approval only for it to be rejected by councillors.
On Saturday, protesters picketed the unopened coffee shop claiming it would undercut independent cafes in the area, while Bristol West MP Stephen Williams has also written to the firm.
The city council said it would assess if there had been any planning breach. But in any event, a prosecution could not take place until the outcome of the planning appeal, which could take six months.
Campaigner Mr Leonard said he believed the opening of Costa could be bad for the area.
"I hope the 3,000 people who signed the petition won't use it," he said.