Concern for poorer students at University of Bristol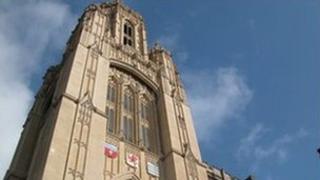 Student leaders at Bristol University say those from poorer backgrounds are being expected to get part-time jobs to make ends meet.
It follows a planned shake-up of the university's hardship financial support package.
Up-front bursaries will be replaced with a system of reduced fees, lowering overall debt at the end of study.
A Students' Union spokesman said it is unrealistic to expect people studying to be working at the same time.
'Long hours'
The current bursary scheme - which is worth up to £1,260 a year - can be used by students to help with their living expenses and course costs.
Those eligible receive the cash after 1 December.
Gus Baker, president of the Bristol union, said while the fee-waiver offered "mild tax relief" later on the bursary was money up front.
"What we are pushing for... is for low income students to have the choice between a fee waiver or a bursary.
"That's something we are working with the university to suggest," he said.
A university spokesman said rather than setting fees at £9,000 per year it was introducing a sliding scale depending on individual circumstances.
"The university takes the view that high fees represented a psychological barrier to those from low income families.
"It is something that is constantly under review so this isn't something that can't change.
"[But] students have always supplemented the cost of study with part-time or holiday jobs," he added.