Liam Hogan inquest: Coroner records unlawful killing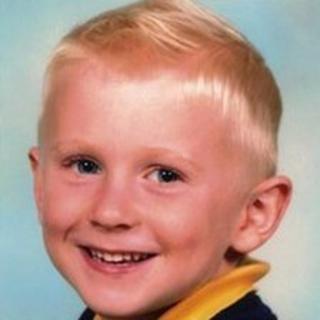 A second inquest into the death of a six-year-old boy who died when he was pushed off a hotel balcony in Crete has recorded a verdict of unlawful killing.
Liam Hogan was killed in 2006 after his father John was seen to push him from the balcony before jumping himself.
An inquest in 2008 found Liam was unlawfully killed but the verdict was quashed.
Coroner Maria Voisin said she was satisfied Mr Hogan was sane when he pushed Liam to his death.
Liam's sister Mia, then aged two, was also pushed from the balcony but she survived with a broken arm.
Mr Hogan, 37, suffered leg, chest and arm injuries.
A Greek court later found Mr Hogan not guilty of murder because of his mental state.
The Greek jury in Mr Hogan's trial decided he had been suffering from an "earthquake of insanity" during the trip to Crete.
He is now being treated for mental health issues in a UK psychiatric hospital and did not attend the three-day hearing.
Delivering her verdict at Flax Bourton Coroners Court, Mrs Voisin, said she was satisfied Mr Hogan was sane when he pushed Liam and therefore the verdict was one of unlawful killing.
'Truth and justice'
Mr Hogan's former wife, Natasha Visser, also did not attend the hearing. Since Liam's death she has remarried and emigrated to Australia with Mia, now aged seven.
Speaking outside the court after the ruling, Liam's grandmother and Mrs Visser's mother Liz Chandler said: "We are extremely relieved with the coroner's verdict. We believe this is the right verdict, a verdict based on truth and justice for Liam."
Mr Hogan's family lawyer Kerstin Scheel said: "Although the inquest process has now completed it will not ease the ongoing anguish and torture felt by John who we firmly believe was not responsible for his actions at the time of Liam's death."
The first inquest came to the same verdict as the hearing, which finished on Wednesday.
However, the High Court ruled the first inquest had not taken into account Mr Hogan's mental state at the time and so ordered this second hearing.
Two judges ruled the verdict by the then Avon coroner Paul Forrest was flawed and needed "further consideration".
They indicated that a "really quite serious error of law" had occurred because the question of Mr Hogan's mental state "was simply not addressed".
Mr Hogan, from Bradley Stoke, near Bristol, had gone on holiday with his then wife in a bid to salvage their marriage.
The incident happened shortly before they were due to return home.
The inquest in Flax Bourton, near Bristol, heard evidence from eyewitnesses who saw Mr Hogan stand behind his two children and push them off the fourth floor balcony before jumping 50ft (15m) to the ground himself.