Parking zone planned if football stadium gets go-ahead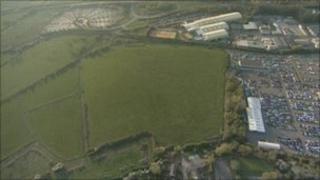 A residents' parking zone could be created in Long Ashton if a football stadium is built nearby.
Bristol City Football Club wants to build a 30,000-seater ground at Ashton Vale which would be likely to bring more traffic to the village.
The club said it hoped a meeting about the plans on Tuesday would be a "productive conversation".
Long Ashton councillor Charles Cave said the scheme would be a "nuisance" but was "necessary" for residents.
Although the Ashton Vale ground has planning permission it could be blocked by an application for it to become a town green.
An independent inspector ruled the land should be registered as a town green but Bristol City Council disagreed and partially overruled her.
Campaigners applied for a judicial review of the decision in September but a judge has yet to be allocated to the case.
Mr Cave said he was pleased the football club was talking to local residents about how it could limit matchday parking.
"We feel it would be absolutely necessary and we're very grateful to the club to talk about it.
'Great concern'
"It's far easier to be able to park freely and not have to bother with permits."
David Lloyd, from Bristol City FC, said he was keen for the club to talk to residents who could potentially be their neighbours.
"I would be the first to put my hands up and say with all the other things going on we haven't engaged as much as we could have done.
"Parking is one of the areas that is of great concern to residents and we're anxious to address that."