Occupy Bristol to leave by mid-January, protester says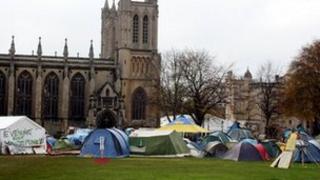 Occupy Bristol will leave their encampment by mid-January at the latest, a member of the group has said.
Since 15 October the protesters have been camped on College Green, which is land owned by Bristol Cathedral but maintained by Bristol City Council.
One of the group members, Tony Cripps, said they now planned a second, "more political" phase, which would see them set up a permanent office headquarters.
But other protesters said no formal decision had yet been made.
Toby Richards, another member of the group, said the issue was being discussed with the dean of the cathedral and moving away off College Green was "not something we have a position on".
'Former beauty'
Mr Cripps said the Dean of Bristol Cathedral, the Very Reverend David Hoyle, had been negotiating with the group to move them off the site.
The dean has not ruled out legal action.
"We really would love to see a negotiated exit with Occupy moving on to the next stage of their project with their heads held high," Dean Hoyle said.
"I still think it's possible that we may still have to start the [legal] processes fully realising that we are never going to use them, simply because we know we have got a deadline we've got to keep, but we will talk this through together."
Mr Cripps said: "The whole Occupy thing is series of stages, we started on October 15th and brought about a lot of awareness, nationally and internationally, about what we're about and what our grievances are.
"People have been surprised there haven't been any demands, but that may change as we move into another phase."
He added that the clear-up of the site had begun on Saturday.
"We've made it clear we do not expect the public to rectify the damage we've done, there is a fund that has been set up to restore College Green to its former beauty."
The campaigners want a fairer society and for people to use less of the planet's resources.