Lorries 'shake houses' near Yate say residents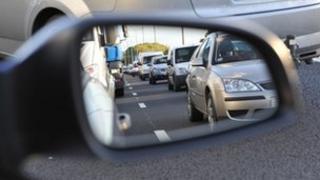 Residents living along a South Gloucestershire road say they are being deprived of sleep by the huge number of passing lorries.
One resident on the B4059 Latteridge Road, Iron Acton, said the vibrations were causing his house to shake.
Chairman of the Latteridge Road Campaign Group, Peter Barker wants South Gloucestershire Council to impose a 7.5 tonne weight limit on vehicles.
The council said it was "aware of residents' concerns".
"One of the greatest problems for Yate is the fact that it has as many lorry movements as Avonmouth Docks and that area has, but it has no infrastructure," said Mr Baker.
"For us individually on this road, it means - most of all - sleep deprivation.
"In fact the house shakes, the headboard shakes, and you wake up and you listen out for the next lorry five minutes later and this goes on all night.
"Sleep deprivation of course is not allowed for people living near airports or even terrorist suspects, but we on Latteridge Road get it 24/7."
'Cracking up'
Mr Barker said he was also concerned about damage to properties along the road as his 400-year-old cottage was already showing signs of "cracking up under the strain" of lorry vibrations.
General noise, the loss of protected species, dust and the safety of local pedestrians, cyclists and horse riders are also concerns.
"We're open to the public in the summer which can be positively harrowing and dangerous," said Lisa Kopper, the manager of Acton Court, a Tudor building which was once a favourite of Henry VIII and his second wife, Anne Boleyn.
"If anyone wants to walk to the court they'll find themselves crossing over, walking down the road, [and] they'll find there's no pavement and they're in the middle of the road with lorries facing them down.
"It's very, very frightening."
Acton Court has set up a 1535 Petition also calling for the council to impose a 7.5 tonne weight limit on vehicles using the road.
'Residents' concerns'
Mr Barker said South Gloucestershire Council was obligated to protect Acton Court Manor and garden - a scheduled ancient monument - which has the same protection as Stonehenge or Westminster Abbey, "yet 44 tonne lorries thunder by at three metres away".
A statement from the council said it was "aware of residents' concerns" and it was working to "find a solution" to benefit both residents and businesses "without negatively impacting on other routes in the area".
"The council is monitoring vehicle numbers on Latteridge Road and it is anticipated that the numbers of HGVs will fall with the transfer of Morrisons operations to Bridgwater in the New Year," the statement said.
"In addition the council is implementing a number of measures to mitigate the impact of HGVs including a speed limit to be introduced in spring 2012 and additional kerbing.
"Council officers met with residents before Christmas to update them on progress."