Bristol community groups funds cut by city council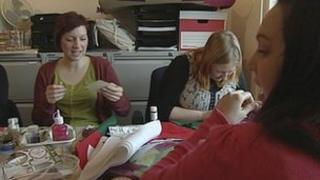 Ten voluntary groups in Bristol have lost their funding from April.
But Bristol City Council has confirmed it will spend £750,000 on 31 groups through two different grants.
Another 10 groups applied for funding but failed. They include Platform 51, which helps vulnerable women, and the Age UK charity.
Council leader Barbara Janke said there would be "disappointed" groups but council officers would help them seek alternative funding.
'Short-term fix'
Cezara Nanu, manager at Platform 51, said: "We can't decrease our quality of service just to meet the criteria for a certain amount of money.
"It long-term support we offer - we take the time rather than run through a short-term fix, as many women slip back to drugs or go back to their violent partner - it's always a work in progress."
A total of £350,000 from the council's Centres for Community Action scheme will be spent on 12 community buildings and farms.
The Stronger Communities Grant of £300,000 is set to be spread out across 14 organisations which specialise in offering services for vulnerable groups in the city, such as elderly or disabled people.
The balance of £100,000 is a one-year fund and will help a further five organisations, including the Barton Hill Settlement and Addiction Recovery Agency.
"We have been clear that we wanted to protect the overall grant budget this year to the voluntary and community sector," added Ms Janke.
"They are delivering important services in our communities supporting the elderly and vulnerable and those trying to recover from substance abuse."
Representations were made by the groups affected by the funding cut during the meeting on Thursday evening, but the cuts went through as initially proposed.
The council leader said she would re-look at the criteria set down for each grant to see if anything could be done.