Witney teen ordered to pay over damaged Bristol statue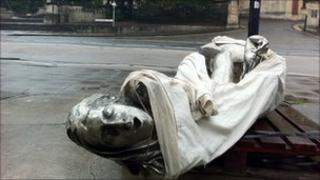 A teenager has been ordered to pay compensation for damaging a statue outside the Royal West of England Academy (RWA) in Bristol.
Jack Kennedy, 18, from Asthall Leigh in Witney, Oxfordshire, admitted criminal damage at Bristol Crown Court in May last year.
He was ordered to pay £1,000 in compensation and £425 in prosecution costs at the court on Monday.
A RWA spokesman said the statue had been damaged beyond repair.
The bronze sculpture, made by British sculptor David Backhouse, had been on display for about a month when it was vandalised between 28 and 29 May 2011.