Bristol police say river wall crash lorry was 'fortunate'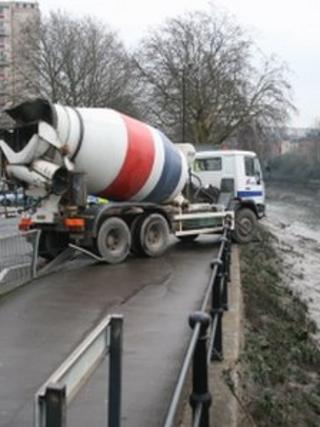 A cement lorry driver was "fortunate" when his vehicle was left dangling precariously over the River Avon in Bristol following a crash.
The lorry was involved in a collision with a car on Clarence Road and stopped on the river's edge after crashing through two sets of safety barriers.
Sgt Adrian Tucker from Avon and Somerset Police said: "It could have been a lot, lot worse.
"It came very close to going over the edge and dropping into the water."
Clarence Road was closed for several hours on Monday morning so the lorry could be recovered and towed away.
Nobody was hurt in the incident but police are appealing for witnesses.