Bristol City FC's Steve Lansdown named as rugby club owner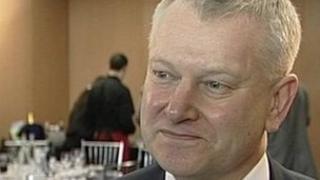 Bristol City Football Club owner Steve Lansdown has been named as the majority shareholder of Bristol Rugby Club.
Rugby club chairman Chris Booy said he was "delighted" to confirm Mr Lansdown had taken a majority stake in the club.
"I love sport generally and I want to see sport in Bristol be successful across the board," said Mr Lansdown.
A statement from Bristol City FC said that Mr Lansdown's involvement with the rugby club would not affect how the football club was run or financed.
Mr Lansdown added: "When the rugby club was in financial difficulty a few years ago I came in and helped.
"I'm looking at a long-term strategy for both clubs to make them sustainable, to make them a lasting legacy for future generations to come."
Mr Booy said the club had already "seen the benefit" of help from Mr Lansdown but added nothing would change in the short-term.
"Going forward, it will very much be business as usual. Steve has in fact helped in supporting the club financially for a number of years now."
Future options
The rugby club plays at the Memorial Stadium, home to Bristol Rovers FC.
Mr Booy said the club would continue to play at its "spiritual home" for at least the next season but would look at future options.
Both Bristol City and Bristol Rovers are planning moves to new grounds at Ashton Vale and the University of the West of England (UWE) respectively.
"Both the UWE site and Ashton Vale are subject to planning permission so we need to see how that goes over the next year before making long-term plans," said Mr Booy.
Mike West, from the Bristol Rugby supporters trust, said he was "delighted" by Mr Lansdown's involvement.
"It means stability but also the possibility of going forward and probably getting those players that before were slightly out of our range," he said.
A statement from Bristol City Football Club said: "Steve has backed Bristol City personally, professionally and financially for over 15 years, and he will continue to support the club's efforts to achieve success on and off the pitch."
Mr Lansdown co-founded the financial services company Hargreaves Lansdown in the 1980s.