Bristol Somali views sought for London Conference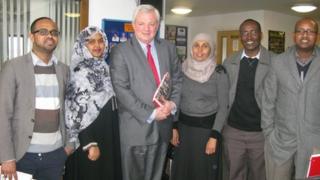 With Bristol being home to a large Somali expatriate community, the government was keen to gather their views ahead of a conference about the conflict-ravaged nation.
International Development Minister Stephen O'Brien travelled to the city on Monday ahead of the London Conference on Somalia, which is taking place on Thursday.
Leaders from more than 50 countries and international organisations are trying to co-ordinate the international approach towards the country.
They are focusing on seven key issues, including terrorism, piracy, humanitarian assistance and what Somalis could do after the transitional government's mandate expires in August.
Mr O'Brien discussed the benefits the conference hopes to bring to the country with local community leaders, and visited the Maandeeq Trade Centre in Easton.
'Insecurity'
Latif Ismail, who chaired the discussion, said roughly three million Somalis - 30% of the population - were living outside their homeland, many as refugees in neighbouring countries.
"But some have made it to the Western world and the diaspora is very influential," he said.
"They send more money home than all of the aid put together."
Mr Ismail said the Bristol Somali community played big role in investment and politically in Somalia.
He added that during the minister's visit, Bristolian Somalis expressed their gratitude to the UK government and to the people of Bristol.
"A lot of Somalis would love to go back and rebuild the nation but what's stopping them is the insecurity," Mr Ismail said.
Mr O'Brien said: "There are issues in Somalia that cannot be addressed in one day.
"But we are working hard with Somalis who want to improve the lives of people in the country and this conference will be one step in that direction."
In 2010, Bristol City Council estimated there were between 6,600 and 10,000 people born in Somalia and their children living in Bristol, but said the actual population will not be known until after the results of the 2011 Census are published.