Second Ashton Vale stadium judicial review is allowed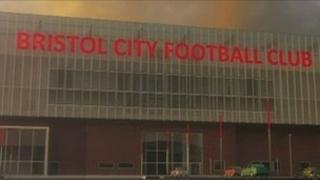 A second judicial review which could decide the future of a 30,000-seat football stadium in Bristol has been granted by the High Court.
Protesters want Ashton Vale made into a town green, but Bristol City Football Club wants to build on the land.
The town green bid was partially turned down by the city council in 2011 paving the way for the stadium to be built.
Bristol City Council said: "Clearly this astonishing turn of events is deeply frustrating."
'Strongest terms'
"Our legal representatives were not invited to be present, or even made aware, that the courts were due to make this decision yesterday on a new judicial review by another anonymous person," a statement from the authority added.
"We shall be seeking to reverse this decision in the strongest terms next week when it is reviewed by the courts."
On Monday, lawyers for the protesters said the original claimant had been harassed over the review.
Judicial reviews normally have to be submitted within three months of the decision which is being disputed.
But Judge Anthony Thornton has allowed the second review to take place outside of this time limit.
The city council had claimed the row over the land was "at an end" when the first application was withdrawn.
But, following the news of the second review being granted, lawyers acting for the protesters said: "Clearly, reports of the demise of the judicial review of Ashton Vale were premature."
Half the land
A statement from Bristol City Football Club said: "This is a complex legal case between an individual claimant, Bristol City Council and the landowners."
The club went on to say it was not party to the legal process and would not be commenting further.
The legal challenge surrounds land in the south of the city that the football club wants to build a stadium on.
It was originally granted planning permission in 2009, before an independent inquiry said the land should be made a town green.
Then, last year, a Bristol City Council committee said only half the land could be a town green, with the other half to be used for the stadium.