Bristol City Council makes £21m savings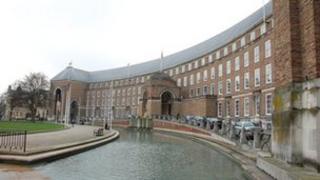 Bristol City Council has agreed to make £21m of savings in the coming year.
The budget meeting was disrupted by several protesters who had to be removed from council chambers.
About 350 posts will go and council tax will be frozen for a second year running, it was decided.
The Liberal Democrat-led authority said: "£8m of the savings has been found in 'backroom' corporate services and many of the other spending reductions are efficiencies."
A council spokesperson said at least half the 350 posts that are earmarked to go will do so through natural wastage or vacancy management.
The council said said fewer than 160 staff would be made redundant and many of them were likely to take voluntary redundancy.
Barbara Janke, leader of the council, said "the city could be confident of its future".
"The 2012-13 budget means parents seeking school places for their children and elderly people hoping to continue to enjoy living in their own homes as long as possible can be confident that the council is working for them - despite a second year of unprecedented savings imposed by central government," she said.
£50m capital package
Lib-Dem proposals passed included funding for a £50m capital package to invest in school places, extra-care homes for the elderly, more help for major transport schemes and a new swimming pool in east Bristol.
A number of budget amendments put forward by the opposition were also accepted.
Two Labour amendments including spending £60,000 retaining 24-hour supported accommodation provision for women at the Well refuge and £50,000 on encouraging sport as part of the Olympic Legacy were supported.
A further Labour amendment to divert £200,000 to help students aged 16 to 18 with travel costs was also accepted.