Assisted suicide campaigner Kelly Taylor dies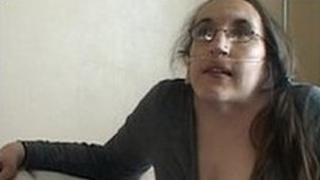 A terminally-ill Bristol woman who launched a legal battle to force doctors to end her life has died.
Kelly Taylor, who had Eisenmenger's syndrome and the spinal condition Klippel-Feil syndrome, died at Frenchay Hospital on 27 February.
The 35-year-old had been campaigning for more than six years to change the law on assisted dying.
It is understood she died of heart complications as a result of a congenital condition.
Pain relief
Eisenmenger Syndrome, a heart and lung condition, can develop in people born with a hole in the heart if it is not treated in infancy.
Mrs Taylor also suffered with the rare musculoskeletal developmental disorder, Klippel-Feil syndrome.
From the age of seven, her health grew steadily worse.
In 2003, after waiting nearly 10 years for a heart and lung transplant, she was told a match could not be found and was taken off the transplant list.
Her doctors were unable to find a combination of drugs to relieve her pain as she was allergic to many of those normally used to treat Eisenmenger's.
In August 2005, to end the "pain and misery" of her condition, she attempted to starve herself to death as an act of voluntary euthanasia.
But after 19 days she was in so much pain she decided it was less dignified than her medical condition and began eating again.
In 2007, she was given a year to live and launched a legal battle to force doctors to end her life.
She was fighting for the right to allow doctors to increase her medication to induce a coma-like state and then have food and hydration withdrawn.
'Deeply saddened'
But despite abandoning her case, after having a request for an adjournment rejected by doctors, she remained committed to patient choice at the end of life.
Davina Hehir, a Dignity in Dying director, said they were "deeply saddened by the news of Kelly's death".
"Kelly's determination to speak out about why she wanted the choice of an assisted death made a huge impact," she said.
"People could see that this was someone who had given a huge amount of thought to the issues and who was prepared to stand up for what she believed in.
"We will miss her enormously."
The family have said they are too upset to talk about her death.