Donor milk bank at Southmead Hospital helps 20 babies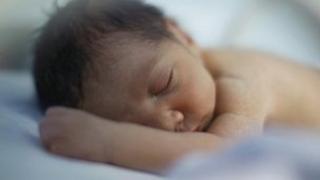 A donor human milk bank which opened at Southmead Hospital in Bristol four months ago has helped 20 premature and sick babies across the region.
The milk, which is screened before use, has helped 13 babies at Southmead and others in Gloucestershire and Devon.
Infant feeding midwife Marion Copeland said: "We're hoping we will be able to supply to hospitals right down to Penzance."
The bank has 60 litres in storage which has exceeded initial expectations.
The donated breast milk is given to babies less than 32-weeks-old, in the neonatal intensive care unit, whose mothers are unable to express milk due to illness, a difficult childbirth, or stress from having their baby in intensive care.
'Greater capacity'
"We have got milk coming in all the time and at the moment we have another 10 litres waiting to be pasteurized, but we have got donors with milk in their freezers waiting to bring it in to us," Mrs Copeland said.
"Our plan was to start off quite slowly, to make sure we had everything working properly because we are working closely to the NICE (National Institute for Health and Clinical Excellence) guidelines which came out in 2010."
These guidelines set out how to recruit and support milk donors, and the screening and storage process.
Since November, more than 50 women have offered to donate milk, but because of restrictions in place over who can donate, there are currently 12 regular donors.
"We have lots of mothers who are interested in being donors, either we have mothers who have had premature babies themselves or others where everything has gone really smoothly with them so they want to support another mother," Mrs Copeland said.
At the moment the unit is able to process about six litres a week, but this capacity could increase depending on demand from other hospitals.