Cotswolds welder shortage means firms recruit outside UK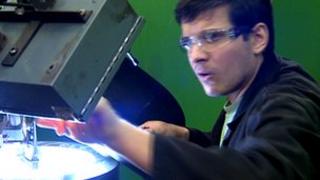 "In the old days we didn't have to advertise, we just told our welders we needed some more people, and they would ask a mate. Today, I'll be lucky if I get anyone replying to an advert who can do the job."
Rosemary Robinson has a problem. Her Cotswold company specialises in complicated welding jobs. They seal pipelines for the oil business, using machines that cost £250,000.
"Our most important asset is our people," she said.
The oil business is growing, and with it demand for pipes, protected by Mrs Robinson's firm. This is exactly the sort of business everyone says Britain needs. Highly skilled manufacturing, exporting to the world, earning the UK valuable foreign currency.
But Mrs Robinson, to coin a phrase, just can't get the staff. Her newest recruit is a welder from Poland.
Army of apprentices
She added: "We also have people from the Czech Republic. They come here because they hear there's a skills shortage, so we take them on."
Engineering firms have been complaining of a skills shortage for years. This is surprising as for the past two years we have heard minister after minister celebrating manufacturing, announcing new apprenticeships.
When Vince Cable came to a manufacturing summit in Bristol in February, he said his department was ensuring apprentices were recruited specifically for hi-tech engineering sectors.
Shortly afterwards, the prime minister announced the latest scheme, a £6m fund for so-called Higher Apprenticeships. David Cameron said he was delighted his government was "helping employers take on apprentices and ensure that the UK workforce has the skills that businesses need."
So is there something weird about welding? Or is Stroud just a bit, well, strange?
Perhaps the new army of skilled apprentices have somehow missed the Cotswolds, or ignored this particular type of engineering.
No, it turns out that across Gloucestershire the story is repeated. The Local Enterprise Partnership said it is the biggest problem facing their engineering firms.
David Owen, chief executive of Gloucestershire First, said: "The shortage of skilled people is the main challenge our engineering firms face.
"We're now working with schools and colleges to try to encourage them to get more young people into this exciting work."
Stroud back streets
There's no doubt the mood music has changed from the government. Mrs Robinson accepts ministers are now talking positively, but she "just doesn't see any action".
Recently, she went to her local colleges near Stroud, to ask if they had any welding apprentices who could come to work with her.
She said: "There is no-one in a reasonable commuting distance from here who can provide that. So fine, ministers can talk about apprenticeships - but we need manufacturing apprenticeships, engineering apprenticeships."
Unfortunately for Mrs Robinson, the solution may be slow. It is true that more young people are taking up apprenticeships, not least because of fears about university student debts.
But an apprentice at 16 today is still a good five years away from answering that job advert from a company like Mrs Robinson's. And in the meantime, you can expect to hear a good deal more Polish and Czech in the back streets of Stroud.