Dreweatts in Bristol stops selling Holocaust-related items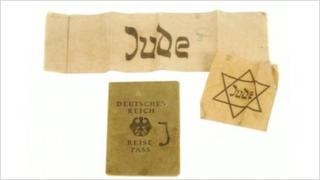 An auction house is to stop selling items associated with the Holocaust following a call to ban the sale of all Nazi memorabilia.
MPs called for the ban after Dreweatts, in Clifton, Bristol, sold a tray presented to Hitler as a 50th birthday present for £28,000 earlier in March.
An arm band, pass document and Star of David cloth insignia fetched £360.
Stephen Williams MP said he understood Dreweatts would still sell Nazi items not directly linked to the Holocaust.
Dreweatts confirmed it would stop selling Holocaust-related items but would not comment further.
Nazi memorabilia sales are illegal in France, Germany, Austria and Hungary.
Large UK auction houses including Christie's, Sotheby's and Bonhams refuse to sell such material, as does eBay.
A Commons motion, tabled by Labour MP Fabian Hamilton last week, condemned the sales as "profiteering on items promoting and glorifying hatred and violence".
After the motion, Bristol-based Rabbi Francis Ron Berry said: "I think it's distasteful and I find it really hard to understand people's motivation.
"If it's purely commercial, then it seems rather unethical because it's a bit like digging up body parts that don't belong to you and selling them.
"It's a macabre way of making money."
Mr Williams, Liberal Democrat MP for Bristol West, said he hoped the company's "change of heart" would "set an example to other auction houses in Britain that this type of business is unacceptable".
"It's immoral to have a trade and profit from the personal effects of the victims of the Holocaust," he said.
Mr Williams said that Dreweatts had told him it would also make a donation to the Holocaust Education Trust.
Richard Westwood-Brookes, from Mullocks auctioneers in Church Stretton, Shropshire, said to try and ban the sale of such items was "effectively censoring history".
"You've got to understand that World War II and the Third Reich happened," he said.
"I sell material to do with the Holocaust because I want to remind people all the time what the Nazis were about.
"People have got to be reminded time and time again that the Nazis murdered millions of people.
"I won't sell Nazi regalia for that reason."