Minute-by-Minute: Capturing a day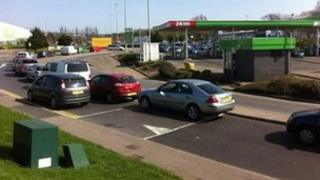 What happens in Bristol and the West during an average day?
To try to find out, BBC Bristol deployed 30 reporters for a 24-hour broadcast which began on Thursday at 08:00 BST.
Among the events covered were a birth, a funeral, a retirement, a citizenship ceremony and a wedding.
Locations visited included the police and ambulance control rooms, the Bristol Royal Infirmary, Bristol Airport and Temple Back fire station.
Thefirst news story of the daywas about Fairfield School, where a pupil fell from a stairwell and was injured in February.
A BBC Freedom of Information request revealed that parents were complaining about safety as far back as 2006.
Reporters then began seeing tweets about queues forming at some petrol stations as people reacted to news of a possible strike by tanker drivers.
As the day went on queues were reported across the West Country with many petrol stations closing as they ran out of fuel.
At the same time on Twitter alight-hearted lookat the Bristol accent to see if the West Country dialect has become fashionable kick-started a debate on people's favourite Bristol phrases.
Thenext story of the daywas an announcement that a decision over a judicial review concerning a new football stadium being built will be made on Monday.
Bristol City Football Club wants to build a stadium at Ashton Vale but protesters want the land designated as a town green.
One of thebiggest stories of the dayconcerned CCTV footage obtained by the BBC which showed businessman Shrien Dewani and his wife Anni on honeymoon in South Africa shortly before her murder.
The video shows the couple kissing hours before the murder and raises questions about the credibility of a key witness who is also filmed.
Just after 10:00 BST anannouncementcame through that plans for a new nuclear power station at Oldbury, near Bristol, had been shelved.
RWE Npower and its partner E.On said they would not develop new nuclear power projects at Oldbury and at Wylfa on the Isle of Anglesey because of problems raising finance for major power projects.
Mid-morning reporter Lucy Grey reported live from a home in Redcliffe where a 23-year-old woman was in labour.
Family summit
She followed the woman on her journey to hospital and then announced later in the day that she had given birth to a baby boy.
Just before 12:00 BST BBC Bristol reported the artistic director of St Pauls Carnival hadresigned.
Julian Davis said the event did not have the "trust or co-operation" of the community.
In the afternoon it wasreporteda group of women who were living in a home for mothers trapped in the sex industry in Bristol had moved into their own accommodation after the home closed due to a lack of funding.
The charity One25 said despite the closure of Naomi House the women were still being supported by the charity and other agencies.
BBC Radio Bristol spoke to the family of Peggy Jennings who had gathered at Bristol Crematorium for her funeral. Her son, Dan, said a "family summit" had been called where his mother shared her wishes for the funeral, before losing her fight with cancer.
Later in the day itemergeda North Somerset councillor was taken to court by his own authority for not paying his council tax. Conservative Carl Francis-Pester is also the chairman of Clevedon Town Council's finance committee.
The Minute-by-Minute project attracted criticism and praise.
Matt Reeve on BBC Radio Bristol's Facebook page said: "Just seen the team back at base pics. What a horrendous waste of licence payers cash. This is a laughing stock here at work!"
But Rich Wootten tweeted: "Really enjoying it. I doubt I'll be listening overnight though. This should be an annual event."