City mansion squatters arrested by police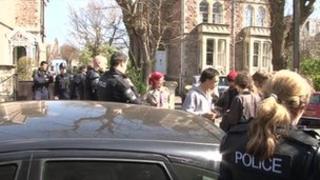 About 40 squatters have been ejected from a mansion house in Bristol and 11 have been arrested by police.
Officers were called to Clifton Wood House at about 10:30 BST to follow complaints made over noise levels during a party on Saturday night.
Police called for back up when they "came under attack" when objects were thrown from the roof.
Nine people have been arrested for public order offences and two have been arrested for assaulting officers.
Police believe more than 200 people attended the party at the house on Saturday night.
A police spokeswoman said: "We went to the property this morning following on from an incident last night, which was a party at the premises, and we had a number of complaints.
"This morning two neighbourhood officers went to do some follow up inquiries and came under attack with objects thrown from the roof."
The extent of the officers' injuries are not known.
The area was closed off around Constitution Hill and Clifton Wood road during the police operation.
One resident said: "The people were screaming at the police, why be like that? I just don't understand it."
About 16 police cars and four riot vans attended the operation.
BBC reporter Chris James, who was at the scene, said: "I can see squatters, or what looks to be the squatters on top of the roof, of this building.
"I understand that the police have gone in with force to this mansion house to at least try and speak with the people inside."
In the past week residents have complained to the police about golf balls being hit at them from the roof of house.
A noise abatement order has also been issued.
The property will be sealed off by the legal owners, the Bank of Scotland, and 24-hour security will be brought in to prevent future break-ins.
The Grade-II listed property has eight bedrooms, four bathrooms, an indoor swimming pool, vaulted cellar and a gym and is thought to be worth £2.9 million.