'Sex litter' found in large quantities on Bristol Downs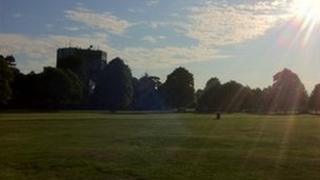 Large amounts of "sex litter" has been found on the Downs in Bristol, according to a group clearing the area.
About 15 bags of litter including used condoms and pornographic magazines were picked up by the Friends of the Downs and Avon Gorge Group at the weekend.
Martin Collins, a volunteer, said it was "depressing and distressing" and worse than he had seen before.
Bristol City Council said it urged "all Downs users to dispose of their litter, whatever it is, appropriately".
Eight volunteers took part in the weekend litter-pick which covered an area of the Downs between Bridge Valley Road and Ladies Mile.
"We found large numbers of condom packets, large numbers of used condoms and these were generally thrown around - they were in bushes, in trees, under logs, on pathways," said Mr Collins.
'Unpleasant task'
"And there were large numbers of tissues, some lubricant tubes and a number of pornographic magazines - it was depressing and distressing."
In a statement, Bristol City Council thanked the volunteers for "taking on this unpleasant task".
The Terrence Higgins Trust, which gives out condoms on the Downs as part of an HIV prevention scheme, said it had made it clear that "they should be disposed of carefully" and was "disappointed" to hear that they had not been.
Under the Sexual Offences Act of 2003, outdoor sex in a public place is not specifically illegal but there are public order offences against outraging taste and decency.
Avon and Somerset Police said it had received "few complaints about this area of woodland".