Mast fire disrupts BBC Radio Bristol and Jack FM services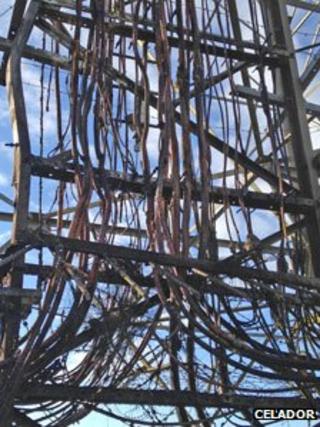 Two radio stations have had their services disrupted after a fire at a Bristol aerial mast.
Firefighters believe the blaze at East Dundry Lane, in the south of the city, was started deliberately.
BBC Radio Bristol's 94.9 FM and Jack FM's 106.5 FM transmissions have been affected. The mast is also used for mobile radio services.
BBC Radio Bristol's Weston-super-Mare transmission 103.6, which relays the Dundry signal, is back on air.
Cables which connect the transmitters to the aerials were badly damaged in the fire.
Mast 'safe'
A spokesman for mast owner Arqiva confirmed the site had been attacked.
"Five other communications services which use the tower have also been affected," he said.
"The structure itself has been declared safe and technical teams are on site to effect repairs as soon as possible.
"Our hope is to get services restored by early evening."
An Avon Fire and Rescue Service spokesman said firefighters were called to the site just after 03:00 BST.
"The damage was confined to the base of the mast but as there was evidence the fire was deliberate, police were called," he said.
A Jack FM spokeswoman said it was still operational on DAB radio and online , adding its sister station The Breeze 107.2 FM was unaffected.
And BBC Radio Bristol can still be heard via the Bath transmission on 104.6, DAB, 1548 AM and online .
Bristol's Heart Radio on 96.3 uses a different mast on Dundry. A spokeswoman said the station was operating as normal.