Bristol gets £23m school boost for new primary places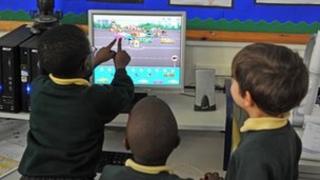 Bristol City Council will get nearly £23m for new primary school places, the Department of Education has announced.
The government said last autumn local authorities would receive a share of £600m but the exact amounts have only just been revealed.
A further £2.3m will be spent in Bath and North East Somerset, South Gloucestershire and North Somerset.
Bristol had already been given £19m from the government to try to tackle a chronic shortage of school places.
Elsewhere in the West, Gloucestershire's schools will receive nearly £2m, Somerset gets nearly £700,000, but Wiltshire will receive nothing.
The government hopes the funding will pay for 40,000 extra school places across the country.
'Acute need'
"The fact that we have received the highest amount for any local authority outside London shows how the government has recognised Bristol's acute need for more school place funding," said Liberal Democrat council leader Barbara Janke, also a teacher.
"This is testament to the strong case that we, together with all our city's MPs, have made to the department's ministers.
"The government's overall funding - together with our extra £20m from the Investing in Bristol's Future package - will mean that we can continue our ambitious investment programme to fund additional primary places across the city."
Bristol has seen one of the biggest increases in the school population anywhere in the country.
According to the city council, there has been a 20% rise in the number of children starting primary school over the last four years.
The city council has previously forecast it will need an extra 3,000 primary school places by 2015 and has already put in place plans to create an extra 370 reception places for next September.